I have decided to take the BBKA's Module 2 exam, 'Honeybee products and forage' in November. If I manage to pass, I'll have passed Modules 1,2,3 & 6, which means I'll be awarded the BBKA Intermediate Theory Certificate. Woo hoo!
But to pass I need to revise, something which often isn't that appealing after a day at work. To kick me off, I'm going to learn a nice simple part of the syllabus: 2.24, a list of floral sources of unpalatable honey.
Unpalatable honey sources
The nectar of a few flowers produces honey which is unpleasant to taste, while a even smaller number of nectars are poisonous to bees or to humans when condensed into honey.
Commonest unpalatable honeys in the UK
Celia Davis says of privet "it is very unlikely to be a problem as only very rarely are bees likely to collect large quantities of its nectar. Even so, a fairly small amount can damage the  flavour of other nectars mixed with it."
The Collins Beekeeper's Bible comments that privet honey is "very strong flavoured, making it objectionable and unpalatable unless it is blended with lighter honeys." It flowers during May to June.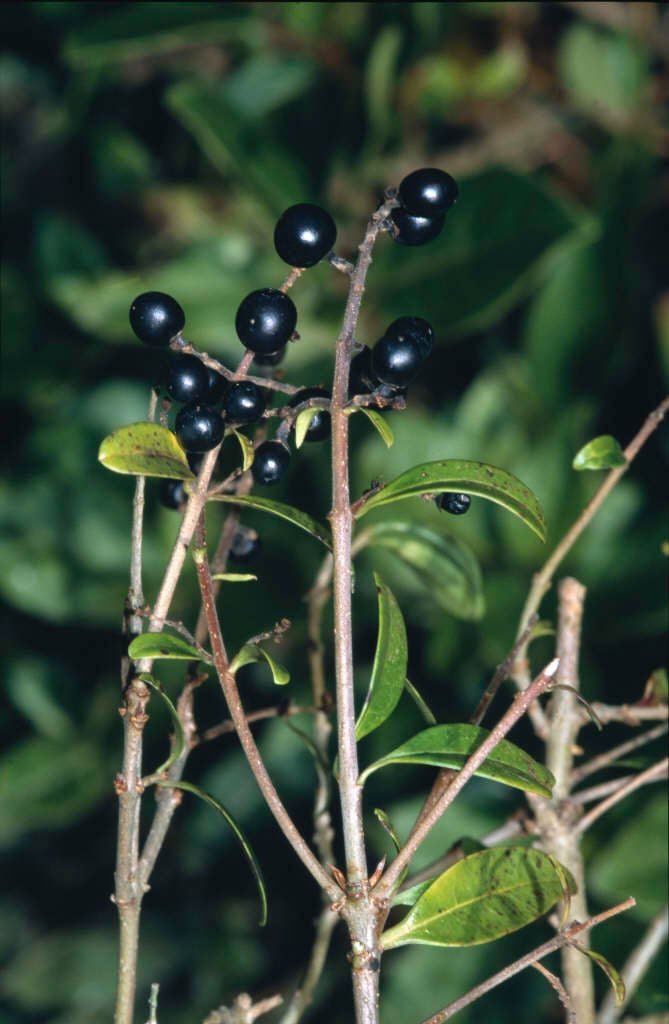 Privet – © RHS 2002
Common Ragwort – bitter taste
A bright, long-flowering plant which is very popular with bees. It's tough and can grow in waste land, road sides, rough areas of parks etc.
Celia Davis describes ragwort as being "very attractive to bees… likely to produce quantities of extractable honey which smells horrible when it is fresh. If it is allowed to stand and granulate, the flavour improves and some beekeepers use it to blend with other, less flavoursome honeys. The plant contains several pyrrolizidine alkaloids which are responsible for the deaths of quite a few horses each year." Ragwort honey is not thought to be dangerous to humans, as it seems likely that someone would have to eat a huge amount of honey to do themselves any harm.
Ted Hooper concurs, saying of ragwort honey "it is bright yellow and has so offensive an odour that when first extracted it is completely unpalatable. Once granulated however, the smell is lost and the honey quite good."
Clive de Bruyn is also positive about ragwort honey, commenting in his classic book Practical beekeeping (1997) "The honey is a deep yellow with a strong flavour thought by some to be obnoxious. I personally find that it adds a bit of interest." He goes on to say "Concern has been raised over the possibility of the honey containing pyrrolizidine alkaloids (PAs). A recent MAFF survey to assess levels of PAs in UK honey produced by bees with access to ragwort stated that there was no cause for alarm." MAFF being the Ministry of Agriculture, Fisheries and Food, now known as DEFRA.
Unpleasant to some:
From the point of view of bees ivy must be a wonderful plant, flowering in September to October when little other forage is about.
However, some people find ivy honey far too bitter. Here's a description of ivy honey from Cornwall by Elizabeth Gowing in her wee masterpiece, "The Little Book of Honey":
The aroma is surprisingly flowery and light, but the taste is certainly not. It's not a very sweet honey, and there is a bitter kick in it which hits you as the crystallised paste melts in your mouth.

I tried to place the flavour and then I got it – if a pointy-chinned woman got out her wand and turned a Stilton into a honey, this is what it would taste like.

And is that a good thing? I'm not convinced."
To read more about Elizabeth's bitter experiences with ivy honey, see her post Ivy honey from the Lizard Peninsula.
Yet others, myself included, prefer a honey that isn't super-sweet and has more character. There are beekeepers with customers who specially request ivy honey. As I've got older my tastebuds have changed a bit and I've come to appreciate more sour and bitter foods such as olives, grapefruit juice and even gherkins, which used to make me wince.
Honeys which are poisonous to humans:
Many of the plants in the Ericaceae family, such as Rhododendron, Pieris, Agarista and Kalmia, produce poisonous nectars which contain grayanotoxins.
Cases of poisoning from this "mad honey" have been reported in Turkey and America. It's said that ancient Greeks and Romans used to leave rhododendron honey in the path of invading armies. The soldiers would eat the sweet treat and end up vomiting and dizzy from grayanotoxin, a toxin contained in the honey. The effects rarely prove fatal but probably would have halted or slowed down the army for a couple of days.
The Collins Beekeeper's Bible contains a tale of mad honey poisoning from the British botanist, plant-hunter and explorer Frank Kingdon-Ward. His memoir Plant-hunter's Paradise (1937) vividly describes his experiences with rhododendron honey in northern Burma, near Tibet. The effect on the honey on him and his companions was a delirium similar to acute alcohol poisoning. Strangely the local Tibetans seemed to eat it without ill effects – or perhaps they just ate less than the greedy Europeans?
Ted Hooper mentions a case of bee deaths in the Isle of Colonsay in 1955 – the island was planted with a large number of Rhododendron thomsonii which subsequently poisoned whole colonies.
Rhododrendrons are widely grown in the UK but I haven't heard of any reported cases of people here being affected by the honey; Celia Davis suggests this is because honey bees are not very interested in their flowers. This is reportedly the case in Ireland, where Rhododendron ponticum was introduced in the late 18th century and has now spread over large swathes of the countryside. Yet in Ireland its flowers are visited mainly by bumblebees, with occasional visits from solitary bees, flies, ants and wasps – but hardly ever honey bees.
Dr Jane Stout, a researcher at Trinity College, Dublin, has found that the grayanotoxins in rhododendron nectar have no obvious effect on worker bumblebees, yet will cause honey bees to die within hours. In both honey bees and humans, grayanotoxins keep the sodium channels present in nerve and muscle cells held open, so that neutrons keep firing until they are fatigued. The effect on Irish honey bees is palpitations, paralysis and death. Stout believes honey bees living within the rhododendron's native range across Turkey to Georgia and southern Spain and Portugal have probably evolved to resist the toxins ('Bitter sweet nectar: why some flowers poison bees' by Stephanie Pain (BBKA News, February 2016).
See more:
Grayanotoxin Poisoning: 'Mad Honey Disease' and Beyond
A scientific paper on mad honey. Contains a fascinating description from the Greek warrior-writer Xenophon in 401 BC on the effects of the honey on an army –  "those who had eaten a great deal seemed like crazy, or even, in some cases, dying men".
A rare case of "honey intoxication" in Seattle
Rusty at Honey Bee Suite reports on the case of a man poisoned by honey purchased at a local farmer's market. Like Celia Davis, Rusty's observations have led her to believe "that rhododendron is not a preferred forage for honey bees and they probably collect it only in rare circumstances when other more favorable blooms are not available." –

EDIT:

please see brookfieldfarmhoney's comment below on 16th Jan 2015 for the inside scoop on this – the scientist involved had his words twisted by the media.
"Mad Honey" sex is a bad idea
That got your attention!
Hallucinogen Honey Hunters documentary
Added after P&B mentioned it in the comments below – thanks! A tribe in Nepal hunt wild rhododendron honey with natural psychoactive properties. One falls unconscious after overdosing on the honey.

Photo of rhododendron by Dendroica cerulean
Kalmia latifolia
Commonly called mountain-laurel. This grows in the UK, but not in large enough quantities to cause problems. It is native to the eastern U.S.
According to Wikipedia's entry on Kalmia latifola:
"The green parts of the plant, flowers, twigs, and pollen are all toxic, including food products made from them, such as toxic honey that may produce neurotoxic and gastrointestinal symptoms in humans eating more than a modest amount. Fortunately the honey is sufficiently bitter to discourage most people from eating it, whereas it does not harm bees sufficiently to prevent its use as winter bee fodder. Symptoms of toxicity begin to appear about 6 hours following ingestion. Symptoms include irregular or difficulty breathing, anorexia, repeated swallowing, profuse salivation, watering of the eyes and nose, cardiac distress, incoordination, depression, vomiting, frequent defecation, weakness, convulsions, paralysis, coma and eventually death."
So please don't go trying it.
Nectars which are poisonous to bees?
Silver lime
Silver pendant lime, also known as weeping lime
Some loopy plants make themselves poisonous to their own pollinators – or do they?
There has been some disagreement about whether lime trees poison bumble-bees, or bumble-bees run out of energy whilst feeding on them and die.
In 1997 Clive de Bruyn observed that "The culprits are mainly the late flowering species during dry weather when the nectar is concentrated… Such poisoning is not common and is dependent on the season, district and species of lime. One species that is known to affect bees is the pendant silver lime Tulia petoliaris, a beautiful tree, symmetrical with a rounded top. It can grow to 24m (80ft). Bees appear to get drunk on the nectar, and bumble bees are especially prone. They can sometimes be found dead under the trees in great numbers."
However, more recent research seems to indicate that the cause of bumbles being found dead under lime trees is their foraging behaviour, rather than toxic nectar. Science writer Philip Strange has left some very useful comments below; as he sums up: "It seems they continue feeding on lime nectar even when levels are low and so they run out of energy. Honeybees don't do this, they look elsewhere before they exhaust themselves."
Angela Woods of the London Beekeepers Association also left me a plausible comment on a Facebook discussion I started – "Perhaps it is because bumbles have less stores in their nests and this tree tends to flower in the 'gap' when other sources of nectar are scarce … I was called out last summer to a street in Holland Park lined with silver limes and there were tons of poor bumbles dead under each tree. It was depressing to see."
This effect has been noticed at Kew Gardens – see the photo below of a sign by a Weeping Silver Lime tree there. Research between Kew and the Wellcome Chemical Research laboratories in the 1930s suggested that it was the high concentration of oxalic acid in the nectar, or the rare sugar melexitose present in the honey-dew, that was intoxicating bees on Tilia petolaris. There's an interesting update to this in a September 2017 Kew Science blog post, Do lime trees kill bees? The authors, Hauke Hoch and Phil Stevenson, have an (unproven) theory that caffeine in the lime nectar may be affecting the bees' judgement – "Lime trees are noted for their far reaching, sweet scent. Maybe this odour together with caffeine in the flowers could result in a fatal attraction of the bees to the point where they run out of energy and starve?".
A final update – in 2019 researchers published this paper: Linden (Tilia cordata) associated bumble bee mortality: Metabolomic analysis of nectar and bee muscle, proposing that a "combination of low temperature and nectar volume, resource fidelity, and alkaloids in nectar could explain the unique phenomenon of bumble bee mortality associated with linden". As of 2020 this is the most recent research into the topic that I am aware of.
Have you had any experiences of toxic or unpleasant honey, or found bees dead by any of these plants? If so I would be interested to hear about it.
References:
'Bitter sweet nectar: why some flowers poison bees' by Stephanie Pain (BBKA News, February 2016, p.51-52)
'How do honey bees react to naturally occurring poisons?' by Jürgen Tautz (BBKA News, December 2016, p.432)
'Do lime trees kill bees?' by Hauke Koch and Phil Stevenson (Kew Science Blog, 27 September 2017)
Collins Beekeeper's Bible (2010)
Guide to Bees & Honey,

Ted Hooper (2010)

The Honey Bee Around & About

, Celia Davis (2007)

Practical beekeeping

, Clive de Bruyn (1997)